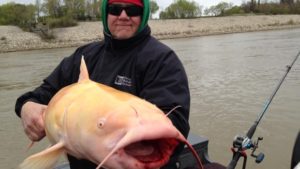 After 30 years of catfishing, a Manitoba fishing guide finally landed his great white whale over the weekend. His client hooked a rare albino catfish in the Red River.
On Sunday, Blackwater Cats Outfitter owner Donovan Pearase and some clients were fishing for about four hours and had caught quite a few good-sized fish when the catch of the day broke the water.
"Catfish are pretty dark in colour and this one was pure white. So, it was pretty easy to see," Pearase said.
"At first I was taken aback for a second and then I got a good glimpse of its head and mouth and I knew it was a catfish. So instantly you kind of think the only thing it could be is an albino catfish, even though I've never heard of one before."
Pearase said that one of the other guests just happened to be filming at the right time.
"We were both kind of shocked," Pearase said. "Harry [the client] was just hanging on for dear life trying to get it into the boat, he didn't say much."