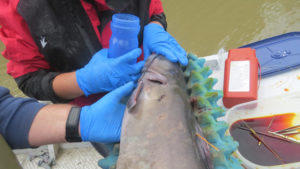 Great strides have been made in promoting the Red River's recreational potential in the past two decades.
Amenities ranging from new boat ramps to canoe and kayak rentals now are available, but it's a safe bet a large segment of people who live along the river still don't realize or fully appreciate the resource that flows through their communities.
From a fishing perspective, at least, there's plenty going on when it comes to the Red River. In Manitoba, researchers in a University of Nebraska-Lincoln study recently implanted radio-transmitters in more than 90 catfish near Winnipeg and Lockport, Man., and cats tagged in Manitoba continue to show up hundreds of miles away.
Stateside, the Minnesota Department of Natural Resources recently completed reports on fish population and creel surveys along the river, the Scheels Boundary Battle catfishing tournament wraps up today, and the Cats Incredible Catfish Tournament is ready to roll the last weekend in July.