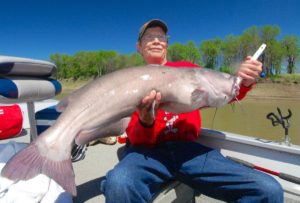 I stood there braced in Brad Durick's G3 riverboat trying to muscle in yet another Red River catfish. Durick stood poised with the landing net on my brother, Dean's side of the boat. This scenario had been playing out over the past two hours. I couldn't help but think: "If you are a cat fisherman, you don't have to die to find catfish heaven. Hit the Red when it's right and catfish heaven is right here."
Dean grunted as he heaved back on the 7-and-a-half-foot Rippin Lips catfish rod pulling the 20-pound channel cat to the surface where Durick, with a practiced dip of the net, enveloped the husky cat in the mesh where it continued to thrash and lunge all the way into the boat.
There is no quit in these fish.
It was nowhere near net time for my fish so Durick slipped the 8/0 circle hook from the corner of the cat's mouth and slipped him back into the silt-laden currents of this magnificent catfish river.