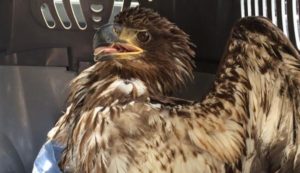 A young bald eagle is recovering after a dangerous encounter with fishing line along the Red River in Manitoba.
Workers at Winnipeg's Prairie Wildlife Rehabilitation Centre rescued the bird on Friday after it was found in the Middlechurch, Man. area.
Media placeholder
In a post on Facebook, the centre said a wing and a leg were caught in the fishing line.
The Centre is reminding people to clean up their garbage.